STOUT COMMUNICATIONS prides itself on compliance with all ANSI/EIA/TIA cabling standards. We will always install a fully compliant system in our new installations. We test, certify and warrant every new cable run that we install for you. Our test equipment is calibrated to the latest standards to insure a fully compliant system.
Compliant Products Alone
DO NOT Guarantee a Compliant System
With so much emphasis on compliant components, many forget that systems will not comply or perform to the desired category rating unless proper installation practices are followed. ANSI/EIA/TIA-568-B warns, "It should be noted that meeting requirements for connector categories 5, 5e and 6 is not sufficient in itself to ensure required system performance." Proper installation and connector termination are critical to a network's overall performance and compliance. The ANSI/EIA/TIA-568-B telecommunications standard for infrastructure cabling reflects prevailing practices by a majority of the telecommunications industry. For further information and to purchase standards documentation, please see http://www.tiaonline.org/standards/overview.cfm
Category 6
Category 6 cabling is the latest addition to the structured cabling standards and has twice the bandwidth of Category 5e cabling, up to 200MHz. This improved bandwidth, together with vastly improved immunity from external noise, provides the potential for category 6 to support multi-gigabit applications. The Category 6 Standard document contains end-to-end cabling specifications, component specifications, field tester requirements and measurement procedures, together with accuracy and reproducibility guidelines that ensure a reliable cabling system.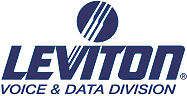 STOUT COMMUNICATIONS has technicians who are trained by the manufacturer and certified to install their cabling products. We are currently certified by Leviton Voice & Data Division for their products. We have a BICSI Registered Communications Distribution Designer (RCDD) and BICSI-Certified Cabling Technicians on our staff.
If you are having problems with your network running "slow" or "it's not as fast as it used to be", please call us and we will be happy to assist you.